FREE COVER
ADD TO CART AND USE PROMO CODE "V10COVER" TO RECEIVE COVER FOR FREE!
Add a Fast Charger
Adjustable charger with allowing up to 5A of power, so you can get to riding faster!
---
Monthly Payments available at checkout with Klarna

---
INMOTION'S MOST ADVANCED ELECTRIC UNICYCLE YET
V10 takes cues from InMotion's wildly popular V8 and pumps up the volume by doubling the power and range without sacrificing the sleek and modern styling. With a maximum top speed of 25mph and over 50 miles of maximum range (V10F), and 2000W motor, EUC riders who demand state of the art performance can enjoy it in a slim and compact design that lends itself to an extremely convenient and comfortable experience.


Tune your V10 to behave exactly how you like it with InMotion's advanced app and ride mode controls, and you'll see why this unicycle has a premium and unique feel unlike anything else.
⚪ COMFORT & DESIGN
With large pedals and ultra-slim form factor, InMotion V10 never feels bulky. It's easy and natural to mount and stop with excellent single-leg ergonomics. The sleek outer shells are easily replaceable should you have any accidents that scuff up your ride.
⚪ RIDE MODE & FIRMWARE
InMotion provides V10 riders the most control over their ride experience by offering two modes: "Classic" and "Comfort". These two modes have a big effect on the way V10 handles, but you can also dive deeper by adjusting the pedal sensitivity with fine-tune controls so you can get your electric unicycle feeling EXACTLY how you like it. Comfort Mode is popular with V10 riders due to it's unique ability to provide just enough softness to the pedal response while maintaining a very stable pedal angle. It almost feels like riding with a suspension!
⚪ HIGH-END POWER IN A TIGHT PACKAGE
V10 / V10F do not offer the longest range compared some other manufacturer's offerings, but many EUC riders don't ever come close to needing that kind of range. InMotion's offering with the V10 provides enough range without adding too much weight and bulk to the design. At the same time, riders can feel confident in performance and safety all around with a 2000W motor that provides gobs of torque for this 16" wheel.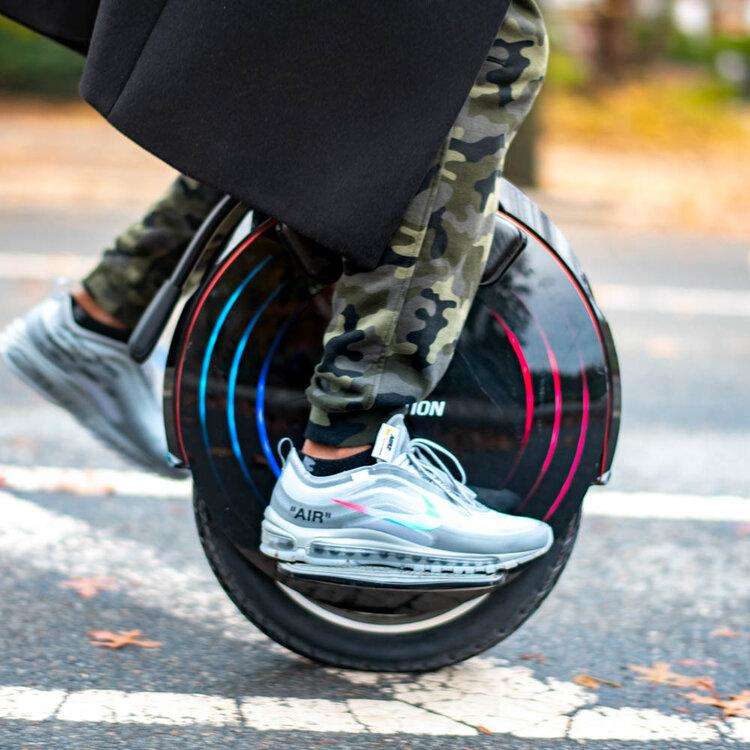 SPECS
Range: V10 43 miles max, V10F 55-62 miles max
Motor Power: V10 1800W, V10F 2000W (nominal rating, can peak much higher)
Battery: V10 8.8AH 650WH, V10F 12.8AH, 960WH
Charging Time: V10 6 hours, V10F 8 hours
Max Speed: 25 mph (top speed under ideal conditions)
Hill Climbing Angle: 30 degrees sustained
Tire: Extra-wide 16 x 2.5 in
Weight: 45.4 lbs
Payload: 260 lbs max (riders over 200lbs will experience decreased performance)
IP Rating: IP55
Active Cooling System with automatic fan and heat sink to control temperature high-performance internal components
Intelligent Safety Tilt Back and audio warnings prevent you from overloading V10 based on available power at any given time.
Lights: Front, rear, and side LED (fully customizable and animate frame-by-frame in app, can be turned off with or w/o app)
Charger Output: DC 84V* 1.5A
Advanced in-app statistics give you access to data to track your performance and usage habits
Engineered from the ground up for optimal weight distribution and uncompromising form factor
Bluetooth: available for data connection to InMotion App, music streaming
Sound: Built-in speakers for system events (customizable in app), safety warnings, and music streaming

InMotion App For Control & Customization
DOWNLOAD FOR IOS
DOWNLOAD FOR ANDROID
V10/V10F is fully supported by the
InMotion App
available for
iOS
and
Android
. See your live stats such as speed, remaining charge / range, internal temperature, power and overall efficiency over time. Connect & share will other InMotion electric unicycle riders all over the world. Calibrate and adjust pedal angle, upgrade firmware, and even run diagnostics to check for any issues with your internal
InMotion V10 Accessories
InMotion V10 Spare Parts