FREE COVER: Add to cart and use promo code V5FCOVER to receive cover for FREE!
---
Monthly Payments available at checkout with Klarna

---
INMOTION'S ENTRY-LEVEL EUC
Like the V8, InMotion V5F (formerly Solowheel Glide 2) is a tried and true model that has been around for a few years now, and this entry level electric unicycle offers a great value starting point for many customers looking to learn to ride their first electric unicycle. V5F comes will many of the most requested features for convenience such as a fold-up trolley handle, and the anti-spin button makes sure you can lift up your EUC for brief periods without needing to power down. The bright headlight and accent lights on the front and back allow you to see and be seen, especially at night. Like InMotion's other EUCs, riders have access to InMotion's App to check real-time statistics and diagnostics.


As an ultra-compact 14" wheel, V5F is among the most portable options for those with crowded shorter commutes, and it's small size and light weight mean performance is punchy and responsive.


While InMotion V5F is suitable for many adults, performance is more limited compared to InMotion's larger offerings. For riders 180lbs and up, we generally recommend something larger & stronger like V8 or V10.
WHY V5F RIDERS LOVE IT
⚪ AFFORDABLE WITH ESSENTIAL FEATURES
InMotion V5F is the most affordable way to get your feet on a new InMotion EUC, and it offers enough features, power, and range for casual users and commuters who don't need an ultra-long range device.
⚪ ULTRA-SLIM & COMPACT DESIGN
Small size can be a huge advantage! Riders don't need to give it a second thought when choosing to take their V5F with them because it's so easy to roll it at your side or stow it at the restaurant, theater, or gym. A small EUC is the ultimate companion for anyone that makes small frequent trips, especially when multi-modal transit comes into play.
⚪ COMFORTABLE TO RIDE, EASY TO LEARN
A slim design lends itself to both comfort and speed of learning to ride because it's easy to manage with one foot and introduces less pressure against rider's dominant leg. The ultra-light weight of V5F also means that performance is more responsive and playful compared to larger, more powerful wheels.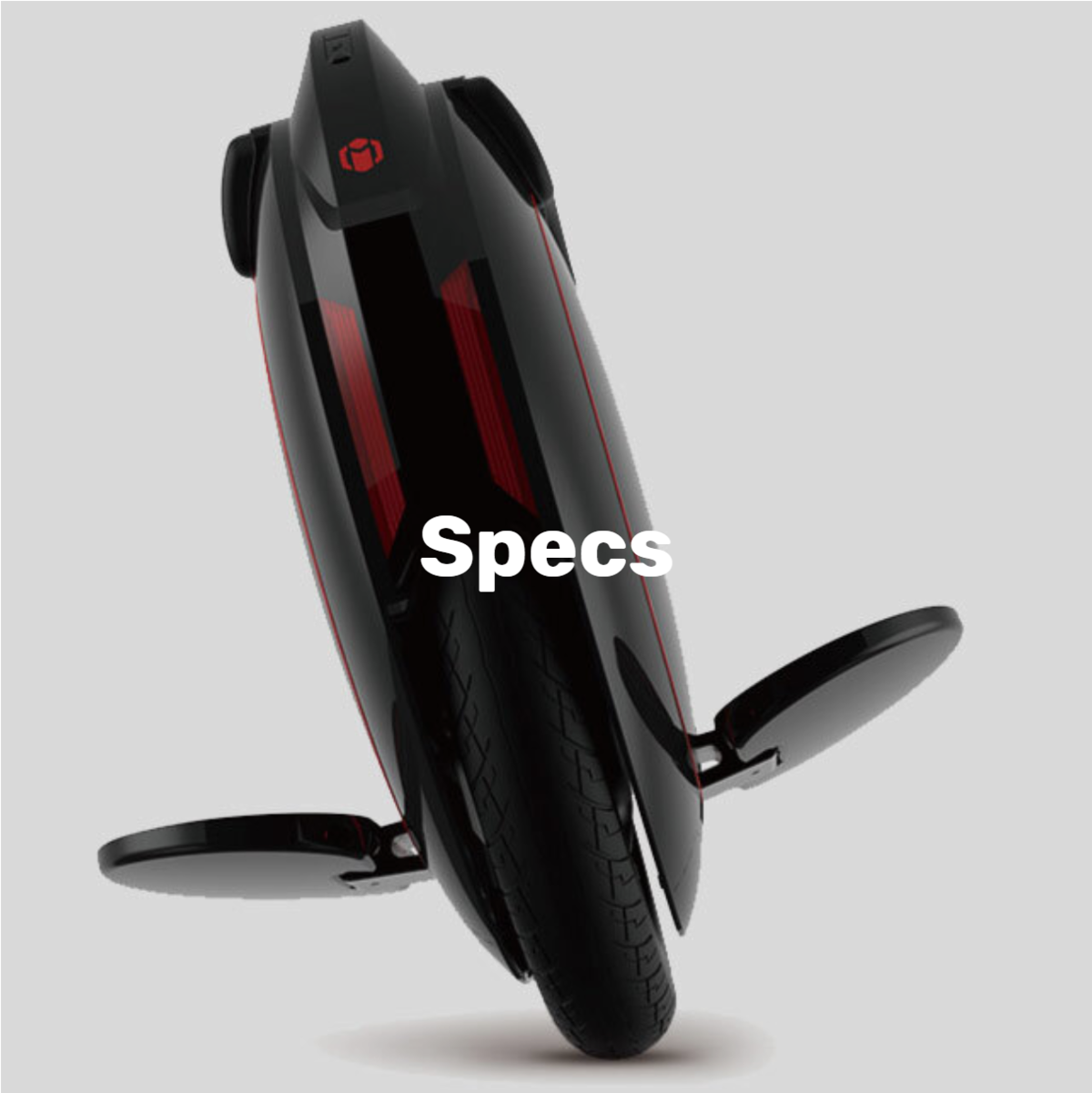 Battery Range: ~20-25 miles max
potential (320Wh)
Top Speed: 15 mph maximum potential
Wheel Size: 14 inch diameter
Hill Climbing: rated for 18 degrees maximum slope, sustained
Rider Weight Limit: 260 lbs max structural load. Note that performance and stability in all areas is reduced at heavier loads. For 180lbs + we recommend InMotion's V8 or V10 instead.
Weather resistant: IP55 rated
Ultra Compact: easy to carry and stow. Optional folding handle accessory sold separately.
Front and Rear Lights
Intelligent Safety Tilt Back and audio warnings prevent you from pushing V5F past mechanical limitations based on available power.
Bluetooth: available for data connection to InMotion App
Sound: Built-in speaker for system events (customizable in app) and safety warnings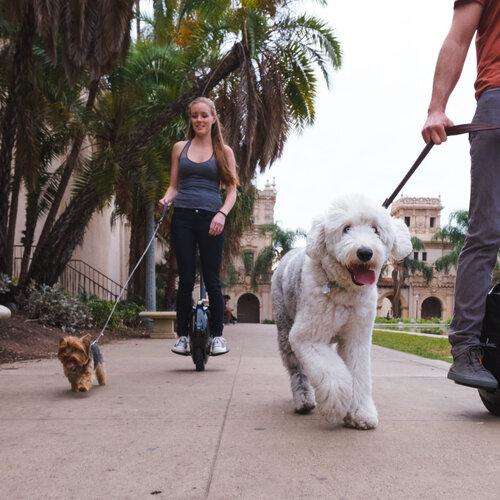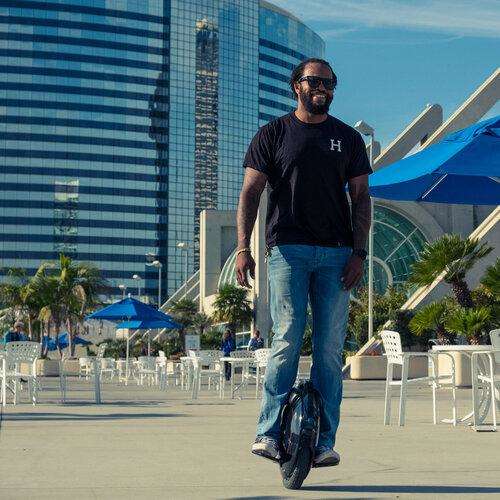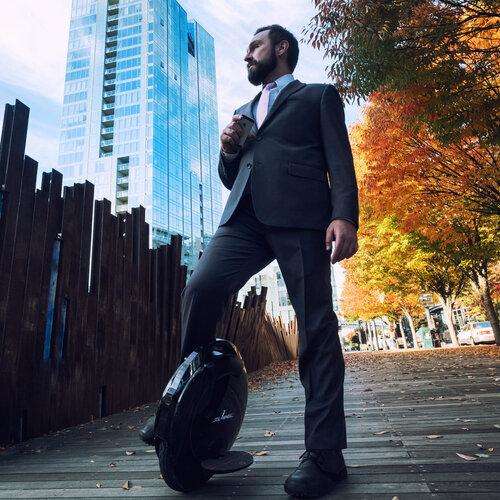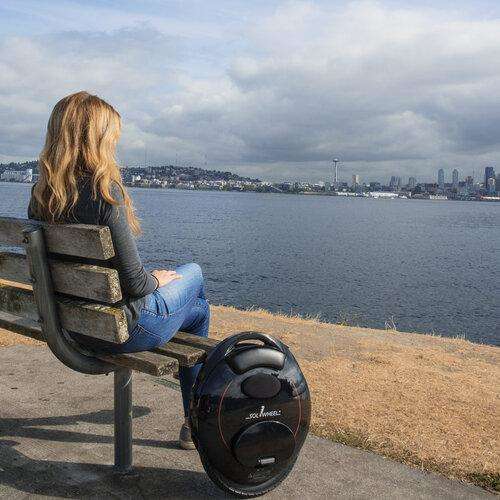 InMotion App For Control & Customization

DOWNLOAD FOR IOS
DOWNLOAD FOR ANDROID
V5F is fully supported by the
InMotion App
available for
iOS
and
Android
. See your live stats such as speed, remaining charge / range, internal temperature, power and overall efficiency over time. Connect & share will other InMotion electric unicycle riders all over the world. Calibrate and adjust pedal angle, upgrade firmware, and even run diagnostics to check for any issues with your internal components.
InMotion V5F Spare Parts